Help topics
General
Paid version (key) offers
App2SD
Usage recommendations for AutoAppOrganizer (AAO)
Application backups
Notification
Saving and Loading your setup
Appearance
View modes
App status indicators
List item appearance
Setting: List item click mode
Categories/Folders
Newbies Tab
Unused apps Tab
Running apps Tab
Keep-me category
Favorites category
Hidden apps category
Auto categorization
Manual categorization
Changing icons
App manipulation
App launch
Changing icons
Home shortcuts/widgets
Cheat codes - why?
Feedback

Paid version (key) offers
The free version has a banner on the top, the paid unlock/key application removes the banner and gives full application access
You can temporarily remove the banner by clicking on it
(If you have downloaded the full version ticket/key app, than you must quit AutoAppOrganizer Free using the Exit menuitem (!) in order to kill it from memory, and restart AutoappOrganizer Free for the ticket app to take effect)


App2SD
Other apps: You have the option to move any app between internal and external install location (with AAO).
Auto App Organizer: App2SD is enabled for the Auto App Organizer itself: you can move AAO to SD!

Note: widgets can not be used when installed on external location.


Usage recommendations for AutoAppOrganizer (AAO)
Do not have many apps installed on your device, it will slow your phone because of the memory usage!

Use AAO to easily backup your apps, and we advise you to backup and uninstall all your apps if possible.
Use your backups of these uninstalled applications as if they were installed, with ONE click on the row of the application you can reinstall and start using it
Exception apps (which are not to be backed up and uninstalled): frequently (daily) used apps, system apps, protected apps and resident apps (that need to run all time)

Use Installed and Backup mode: since you have uninstalled everything (No. 1 recommendation) you can see all uninstalled-but-backed-up apps and the installed ones in one list, and can handle these backups as if they were installed (view, categorize etc)
Note: If you install apps from Amazon App Store, than please note this: if a payed app installed with the 1 day free offer, than you must not backup + uninstall it because next day you can not install the app for free even if it is on your SD card!

Application backups
Backup term: a backup file is a copy of an application (.apk) that is placed on your SD card (so you can keep the app without using memory like installed apps do)
Backup directory: by default the directory is "backup/apps", this is the same as the backup folder of the widely used ASTRO application, so you can easily sweep in all backups you already have at that location.
You can change the backup folder any time, and of course you can copy any .apk files into that directory - they can be instantly read up by AAO.
Backup naming: The backup module unifies the names of your backup files into "<app name>(<app version>).apk" format.
This brings you that if u install a newer version of the app and run a backup, the old backup will be kept for you with the old name ("Angry Birds(1.0).apk" and "Angry Birds(1.1).apk")
Hint: Renaming all backup files to the unified name: Select all apps that have backups (u can select apps that are not even installed!) then hit "Backup app" -> this will refresh the backup files, and as a side effect, it will modify all the backup file names into the unified format.
Backup automatism: You can set (in the settings) that where do you need to trigger the backup automatism:
on app uninstall
on app install and uninstall
on app uninstall but only at non-newbie apps (so only important apps that were used for several days)
Notification
By default an ongoing notification is present in order to have instant access to the application.
You can configure the notification three ways:
with icon
without icon
or hidden

Saving and Loading your setup
Before a hardreset or migration to a new phone, you will need to save your categorization and folder icons, in order to keep them and load it later
You can do this by going into

View modes
Installed: here you see only the installed applications, so backups and uninstalled apps are not shown.
Installed and Backup (default): here you see both installed as well as uninstalled/backed up applications
Only backup: clear-cut
Only uninstalled: clear-cut
App status indicators
There are small icons in each row (near the checkbox) indicating the status of the app:
no icon: installed, not backed up
box with floppy: installed and backed up
shadowed box with floppy: uninstalled and backed up
shadowed box with red X: uninstalled, no backup
if the box is green: this app is installed on sd
if the box is red: this app can be installed on sd, but it is currently installed on internal memory, so: move it to SD to free up some memory!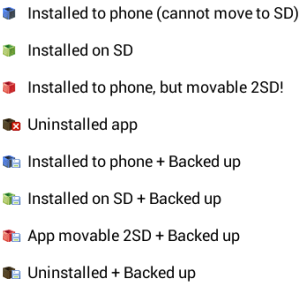 List item appearance
The list item parts shown here:

Last usage of the app: it is language dependent, in english:

= recently used (in one hour)
= used about five hours ago
= used about two days ago
= used about three weeks ago
= used about a month ago
= used about two years ago

Extra info part: (depends on the current order by), it shows

Category names - if the order by is "" or ""
Install date - if the order by is ""
App size - if the order by is ""

Checkbox & favourite & status indicator part:

Checkbox: use it to multi select apps
Star: click to put it into Favourites category
Status indicator: jump here to get more info

App name part: Here u see the application name
App icon part: Here u see the application icon
Setting: List item click mode
This sets up the list item behavior:
row+icon check: this means if you click anywhere entire row (including on the app icon) it will toggle the checkbox.
row check, icon run: in this mode clicking the icon runs the app, anywhere else in the row toggles the checkbox
row+icon run: (default) only a click on the checkbox will toggle it, clicking anywhere else runs the app.

here's an extra tip: if you checked the first checkbox than all subsequent rowclicks will also check the checkboxes.
Newbies Tab
On this tab you can see those apps that you have marked as Newbies (rookies).
When you install a new application you will be automatically offered to mark is as newbie.
After several days of using (if kept installed) the new app the AutoAppOrganizer will automatically remove the newbie category, since you seem to like the app so far.

You can configure the number of days to wait with this de-newbie-sation

Unused apps Tab
On this tab you can see the apps that haven't been used since the time defined in the settings screen ().
Note that right after install the AutoAppOrganizer has no information about the usage statistics since there is no such log on your device. So this feature will not be effective until the number set for has elapsed

Running apps Tab
On this tab you can see the currently running apps in the system, you can
see them
one tap: launch them (bring them to front)
long tap: kill them if you do not want them
When the tab is focused the listview on this tab is refreshed every 2 seconds to show you the actual status of these running processes (tasks/services).
Keep-me category
Apply this category to the apps that you want to exclude from the list

Favorites category
Mark any app as a favorite, these will be sorted to the top of any list that is sorted alphabetically

For apps which you do not want to see anywhere else in the AAO app (eg. non-launchable background apps, or system apps) Hidden apps category

Auto categorization
There are two sources of categorization:
from AutoAppOrganizer's (AAO) own InternetDB, where categorization preferences from all users is stored.
if an app is not yet in the InternetDB than AAO makes a try to get the market category of the app from public internet.
note 1:
note 2:

Manual categorization
You have two options to put apps into target folder (category):
From any app list/grid
select any number of apps (u have multiple app selection!) that u want to put into the folder.
longlick on one of the selected apps
select the desired folders

(hit "" if u see the action list instead of folderlist)

hit

if u want to keep existing categorization and olya want to put the app into the new category also
if u want to replace the category assignemnts
From the target folder
go into the folder
hit option
and there select any app to put into the given folder
App launch
You can launch an application three ways from the application,
one is using longclick and from the context menu,
Main app: clicking on the app icon on the left.
Folder view: clicking on the app icon .

Changing icons
You can change the icon of any category and any app. There are several options:
Default icons - here you will see some AAO built in icons
Image gallery - your own image gallery: take a picture, or have an icon from any source and load it into AAO
Ipack icon pack - Search "" in google play, you will have several icon packs published by "", install any of them and use in AAO.
Assets of other applications - that let other apps to acces to their resources, and listing any other apps having image assets in them.
2x2 matrix - here generate a 2x2 or 2x1 icon-matrix using your apps in AAO (installed or backed up) to combine 2 or 4 app icons to create a folder icon.

Home shortcuts/widgets
You can make a home shortcut (or widget) for any category, from which you can access the included apps quickly like using a folder. You can also create app shortcuts,
You can make a single shortcut for all the categories and opening the shortcut will open the categories in icon view.
New!: You can select new icons for the apps while making the category or app shortcut
New!: You can create invisible icons if u like.

Cheat codes - why?
Simple: a user is always lazy, or they are not always motivated to make a review, so this is why we ask our users to make those reviews (no matter how bad the review is) to initiate some communication about the app

Feedback
Any comments, feedback, suggestions on AutoAppOrganizer please write to us using the link below.
zerotouchsystems@gmail.com